One of our own Yeager Supply sales representatives was back in the race at the Pagoda Hill Climb participating in this race with his own car.  Yeager Supply was one of the sponsors of the Hill Climbs with staff cheering on Jim's 712SSP car a 2000 Corvette. Racing in both events, he placed 2nd in his class during the first event. Over 98 race cars of many makes and models competed.
The Pagoda Hill Climb race on Saturday, June 26th & 27th began at City Park in Reading, PA and climbed 1.3 miles to the finish line at the Pagoda. This race runs the same course as the Duryea race coming up on August 21st and 22nd yet has a 1 mile shorter course. This hill climb puts race cars to the test, as they climb the very winding uphill street to the finish line.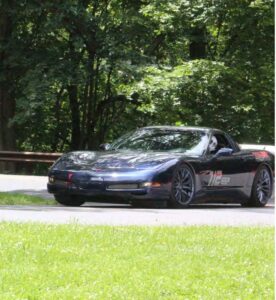 712 on on a very challenging Turn 2. "It was a fun back and forth fight." Jim
If you are a race car fan the second hill climb in Reading, PA is the Duryea, August 21 and 22 from 9:00AM to 4:00PM starting from Central Park in Reading. Stop out.